Online Privacy Protection
What is Online Privacy?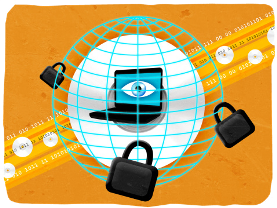 The word Online Privacy simply means freedom from any unauthorised invasion. Privacy is loved by all --- people of all age groups. Since the advent of Internet, the privacy of a person has become vulnerable.
How your Online Privacy can be Violated?
Your online privacy will be at stake, if you are a famous person, active in social media, or you have so many friends and followers. The companies of today hire people, especially successful ones, to take a tab on what they do on Net. Nothing will remain personal for you and your reputation will be on wane, if you do not comprehend the importance of your privacy.
What we can do for you?
Remove blogs, unwanted links as well as images from your personal/business search results by posting multiple positive contents for single negative content.
Permanently keep your personal information off the Internet and various search sites.
Minimize risk of online impersonation.
Keep you abreast of who is watching you and what information they are getting about you.