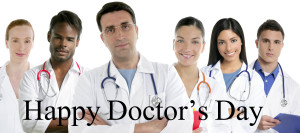 No doubt, Internet has immensely contributed to the greater good of the world. But, its misuse gives sleepless nights to some persons of repute. Doctors have to face the wrath of disgruntled persons. They garb themselves in the name of patients and spit venom against the doctors. It is high time proper care and precaution should be exercised in the digital world, to keep some vested interests at bay.
Today's Internet era has no doubt taken the world to surprise. But, in some cases, it has done more disservice than good. Any organization or person that deals with the public, runs the risk of loss of reputation. And those who are in medical profession, have to face even the higher risk, as they are all associated with one of the basic needs of every human being—health.

Unfortunately, some doctors do not respect their profession and abuse their knowledge. On April 4, 2014, Mumbai Mirror revealed that a devastated victim was all set to end his life, after a pathology lab technician told him that he is HIV+. That unscrupulous technician did not stop here; he rather went further by telling that the man will be cured of his illness, if he pays rupees one lakh. But, the subsequent independent check-up proved that he is all right.
A doctor, if found guilty of unethical practices, must be awarded exemplary punishment. But, ironically, it is not that only doctors are to be blamed, some vested interests work against the doctors and try to show them in poor light. That means, there are two sections of doctors—those who do not respect their profession and resort to some unethical practices and those who are made victim of Internet Conspiracy. And for the latter, Doctors Reputation Management is very much essential.
Thankfully, there are few companies that have stepped ahead to safeguard the glory of all those health professionals who has become infamous due to wrong reason, i.e., without any complicity in unethical practices.
Some of the works performed by these companies are as follows:
Creating website and promoting their practices
Monitor all the posts—either positive or negative
Providing rebuttal services for every complaint that does not hold water
Promoting mouth publicity for a medical maverick
Reputation.in understands the agony of those doctors who have to face the anger of their patients without any fault. This company has started providing the security blanket and its response is overwhelming. A number of doctors have opined that they have heaved a sigh of relief and now they focus on treatment without any Tension of Tomorrows, thanks to this company.
Contact us for free consultation and proposal !!